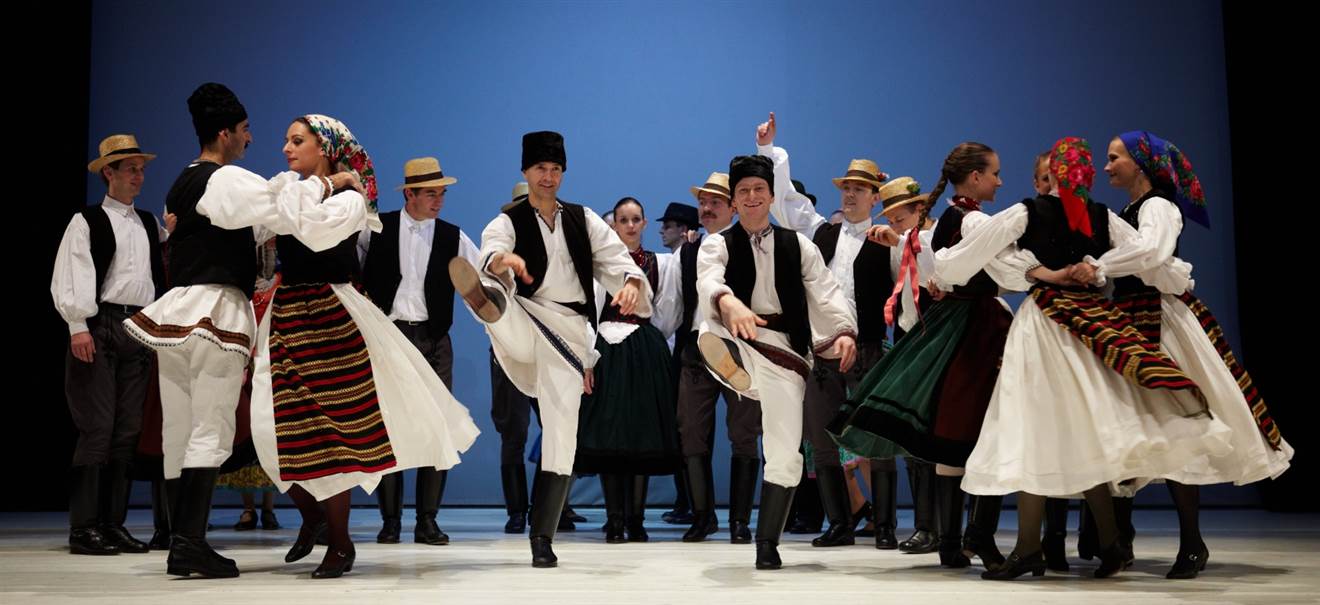 Hungarian Dance Performance in Budapest
To product
The impact of folk heritage on Hungary's culture from music to performing arts, architecture and fine arts is peculiarly significant and unique to this land.
What to expect
There is no better way to discover a country's soul than learning about its authentic dance and music traditions. Hungary is a country known for its passion for the art of folk dances. It's one of only a few countries in the world where exist University for folk dances and also four professional folk dance groups.
The Folk Show is organised in the breathtaking theatre hall of the Neo-Baroque styled Danube Palace, located in heart of the city centre. Each performance starts at 20:00, and consists of two 40-45-minute sessions with a break in between.
The 90-minute folk show is brought to you by the best professional Hungarian folk groups. Their aim is to collect and play authentic folk music and dances and to preserve Hungarian traditions dating back centuries. 
In 90 minutes, these world famous artists will drive you through hundreds of years of Hungarian traditions all in authentic costumes and with singular Hungarian attitude. During the show you can discover a large variety of traditional dances. The folk groups perform from a diverse selection of themes, from war to celebratory and romantic dances. The choreographies are all based on original dances, some of them were collected in isolated villages with folk elements dating back hundreds of years.
Let yourself be amazed by the expertise of the talented performers and enchanted by the traditional music. You will also have the chance to see firsthand virtuoso artists playing an original Hungarian instrument, the cimbalom. 
Beside that, several string artists will make this musical evening unforgettable for you. 
This is an experience you will surely not regret! 
Have yourself an extraordinary evening and get closer to Hungarian culture from a whole new perspective!
Pick up & drop off service:
- At the end of the process you can fill in the name of  your hotel and phone number. We will communicate the exact pick-up time from your hotel.
- In case you would like to cancel your pick-up reservation, we ask you kindly to inform until 4 PM on the program's date.
- Please check the pick up service conditions here!
Inclusion:
• Hungarian Dance Performance entrance ticket
• 90 minute perfomance
• Transfer service if option selected
Departure time:
• Hungarian Dance Performance starts at 20:00
• Meeting time: 19:30
Duration:
• 90 minutes
Theater/Meeting point:
• Danube Palace 
H - 1051, Budapest, Zrínyi u. 5.