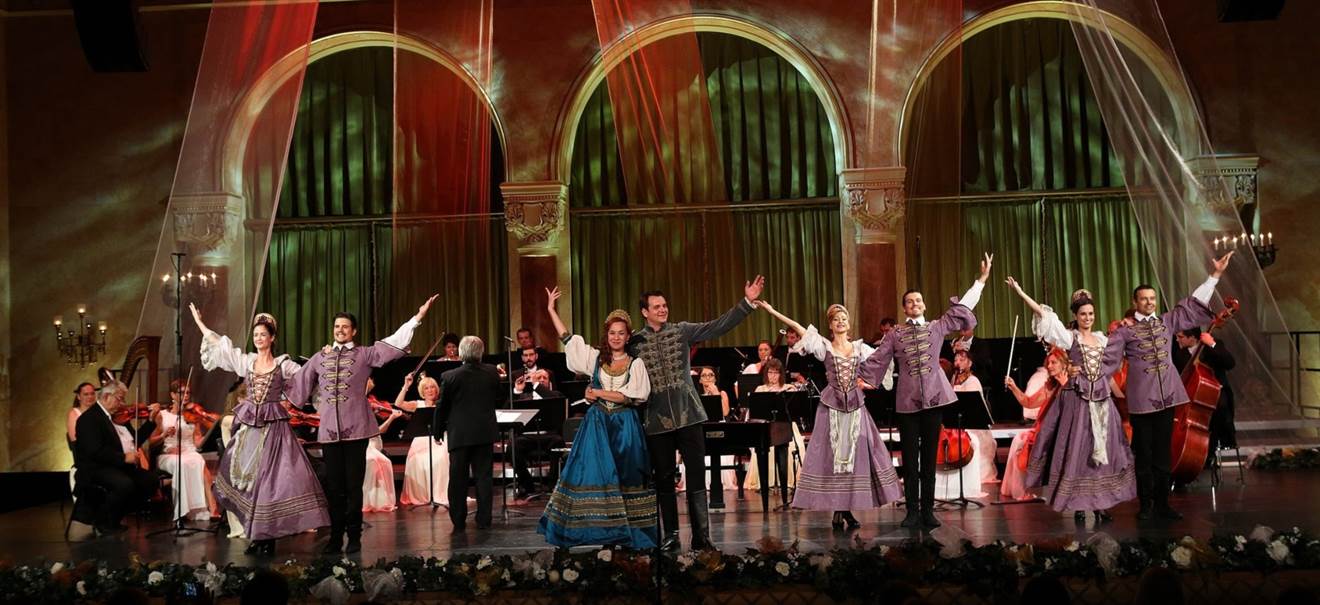 Budapest Gala Concert and Late Night Cruise
To product
Prepare yourself for an evening in the Hungarian capital you won't forget! Combining a marvellous river cruise, a delicious dinner and a fabulous performance, this program combination is the best way to explore Hungary's classical culture scene.
What to expect
Discover the real reason behind Hungary's fascination with music as you are taken on a journey across the depths of Hungarian music culture from its folk origins to the greats of classical music such as Liszt or Erkel and a wide range of dazzling operetta numbers.
The Gala performance features the celebrated Danube Symphonic Orchestra with soloists from the Budapest Operetta Theatre accompanying talented local ballet dancers on a classy night of cultural engagement. Discover the beauty of Hungary in two historical venues, the Danube Palace and the Pesti Vigado both in the city centre.
After the performance, you will meet your hostess in front of the theatre to be lead on a few minute walk towards the pier where you will embark on a stunning journey throughout the glimmering River Danube.
The 90 minute cruise will reintroduce you to the city's most amazing sights by the riverbank such as the St. Stephen's Basilica, the Buda Castle, the Matthias Church and the House of Parliament from a new perspective. Witness the most beautiful bridges of Budapest like the iconic Chain Bridge, the Liberty Bridge and the Elizabeth Bridge, dressed in their night gown of gleaming lights. Please all your senses and sample the most popular dishes of Hungary while being serenaded by talented string musicians from the Rajkó folk ensemble.
Don't miss a chance to see Hungary for what it truly is: a magical combination of pleasures for all the senses!
Inclusion:
Gala Concert entrance
Transfer service if option selected
Transfer Service Information
Late Night cruise with Dinner or Drinks Only

Departure time:
Gala Concert starts at 20:00
Meeting time: 19:30
Late Night Cruise starts at 22:00
The Gala will be held at the Pesti Vigadó on the following dates: June 13, 20, and July 4, 11.
Duration:
180 min.
Theater/Meeting point:
Danube Palace 
 H - 1051, Budapest, Zrínyi u. 5
or
Pesti Vigadó
H - 1051, Budapest, Vigadó tér 2