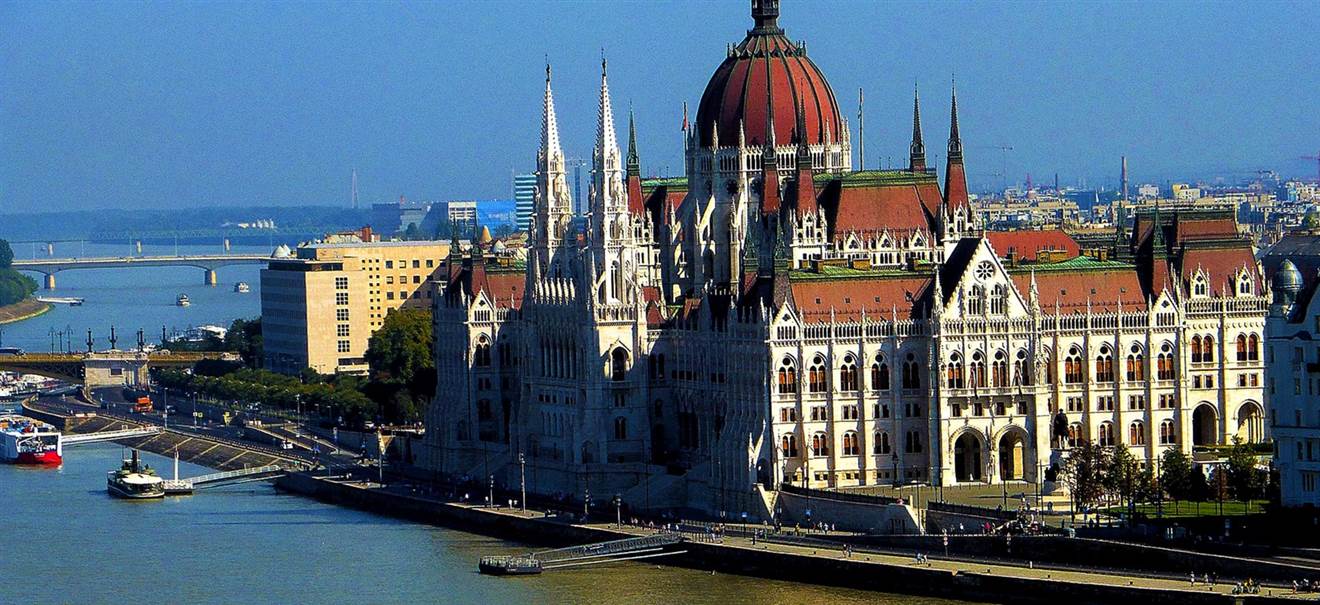 Parliament tour & Lunch cruise
To product
Get on the culinary side of Budapest have an up-close look at the most important icon of the city before embarking on a Lunch Cruise across the River Danube!
The Hungarian Parliament is the third largest parliament building in the world and one of the most recognized landmarks of Hungary. Built in 1904 by Imre Steindl in a peculiar Eclectic style mixed with Neo-Gothic details it is currently the largest building of the country. 
A guide will take you around the gigantic halls of the House of Parliament while sharing the secrets of its past. You will even have a chance to explore the hall of the National Assembly and to lay your eyes on the holiest relics of Hungarian history, the Holy Crown, and the crowning jewels.
After the tour, mix pleasure with pleasure on a river cruise that will appeal to your eyes and taste buds as well. 
Make your way to the meeting point at Danube Palace by 13:30 and enjoy your scenic sail through the artery of Budapest.
The river cruise will take you to astonishing sights such as the Basilica and the Great Market Hall on the Pest side and the Buda Castle, the Fisherman's Bastion and the Gellért Bath on the opposite side of the river and will give you a chance to rediscover the Parliament Building from a new perspective.
Enjoy a welcome drink upon boarding and tuck into a truly diverse selection of fresh meals from the buffet tables at the center of the boat. From Hungarian specialties such as Gulyas Soup, Chicken Paprikash and stuffed cabbage to international favorites and vegetarian delicacies you will be able to fulfill all of your palate's desires. Just don't forget to leave some space for dessert either.
See Budapest in a bright new light and explore its treasures on an illustrious day!
As a complimentary bonus to your ticket, you will receive free passes to two additional historic Danube ships as well with their own stunning exhibitions inside.
Board a 100-year old steamboat, the Kossuth Museum ship (Budapest, Vigadó dock 2, 1052) and the Gróf Széchenyi Museum Ship (built 1939) (Id. Antall József rkp. 18, Budapest, 1052 ).

What is included:
Entry to the Parliament
Free pass to Kossuth Museum ship (visiting hours: 12AM-22PM)
Free pass Gróf Széchenyi Museum Ship (visiting hours: 10AM-13:30PM)
Open Buffet Lunch Menu
1.5 hours Danube River Cruise
How does it work:
Select your preferred time slot for visiting the Parliament. Important! In case you have chosen the time slot after 12:00, you will not be able to have the lunch cruise the same day. In this case, you can join the lunch cruise the next day, after the day you will have your Parliament tour.
Important
Meeting point for the Parliament tour: Parliament Visitor Center at the Northern side of Kossuth Lajos Square Budapest, Kossuth Lajos tér 1-3, 1055
Please, bring  PRINTED copy of your ticket.
Make sure to have your photo ID/passport with you when entering the Parliament.
Meeting point for the lunch cruise: Danube Palace (H-1051 Budapest, Zrínyi Street 5)
Meeting time for the lunch cruise: 13:30